FIFTY GLORIOUS YEARS
Fifty years of uninterrupted and successful life of a company is always a good occassion to retrospect on all its achievements. The more so if the company in question deals predominantly in sports and racing cars and motorcycles, that means products bought for pleasure rather than utility, and therefore highly dependent on the general economic situation at any given moment.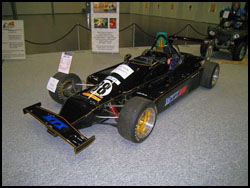 Metalex was established five decades ago without any funding to speak of, as a natural continuation of a handful of racing drivers' passion for motorsport and their desire to take it to a higher level. Let's remember their names, pronounced reverently by a multitude of fans – Bervid, Bold, Janek, Jílek, Navrátil, and Treybal (who's sadly no longer with us).
As no other way was possible back then, Metalex was set up as a special-purpose organization within the Czech Motorsport Club framework. From the very beginning, it had to earn its own upkeep – a task by no means easy. To support sports activities, which by their very nature logically consumed more funds than they could bring, it was decided to provide metalizing of steel structures, an activity which gave the company its name.
Metalex started small, based in an abandoned barn in Roztoky near Prague, now long gone, and in a converted cellar in Kamenická street, Prague 7. Soon, a workshop was established in Pilsen to serve as a production facility for formula cars, staffed by a uniquely well-selected team of car mechanics and managers, all motorsport fans. Later, another facility in Mělník was acquired to serve racing car modification and production. Neither the initial complications, not the dozens of subsequent problems could discourage the team of enthusiasts who relentlessly pursued their dream of doing motorsport on a higher level, with better technologies.
MTX-marque racing cars and motorcycles designed and produced over the years by Metalex have since become a part of the Czechoslovak and Czech motorsport history. It would indeed be difficult to imagine those past years without the brand. There were so many types and models, in bigger or smaller series, not to mention designs made only as prototypes or micro-series. What all the products bearing an MTX badge had in common was an excellent quality of design and engineering and flawless workmanship. One of the first Metalex vehicles produced, the Škoda formula car, has been participating in the Czech Republic Championship ever since!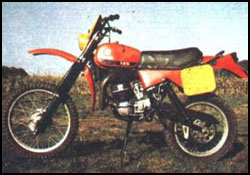 The impressive display of achievements and successes reaped by Metalex/MTX vehicles boasts 14 international and nearly 100 Czech or Czechoslovak championship titles. Most top Czech racing drivers have driven MTX vehicles to victory in national as well as international competitions, whether road, circuit racing or autocross. Furthermore, the MTX Tatra V8 established the first official Czech landspeed record in 1997. This tour-de-force has been made possible thanks to the enthusiasm and dedication of every single Metalex employee, from designers through skilled labourers to testing drivers and external collaborators.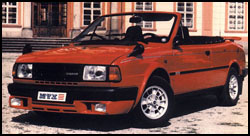 Simultaneously with the development and production of formula cars, buggies were developed ever since 1970 at the Pilsen facility. However, due to a constant overload of production capacity, none of the prototypes made it into mass-production, which is why a new facility was eventually established in Bukovno near Mladá Boleslav. In 1988, the third prototype was completed here, followed by a small-series production of both completed buggies and separate chassis, which were then used to build a number of individual vehicles.
In 1976, a detached facility of the Pilsen plant was established in Příbram to focus on production of circuit racing motorcycles. June 1977 saw the completion of the first prototype and in January 1978 the first riders received 9 identical motorcycles, the basis of the 125 cc Junior class. Subsequent modifications led to increases in performance, peaking in the 4th generation of motorcycles which from 1986 the Czechoslovak national team rode in cup races. The bikes' success attracted a number of orders from the national racing teams of Poland, Hungary and even Cuba. Unfortunately, abrupt changes in the economic situation after 1989 forced MTX to abandon further development of motorcycles.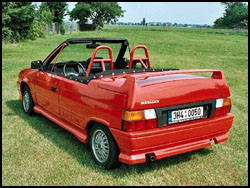 The year 1989 saw the arrival of a new era. The employees joined to set up a company called MTX and took over the original Metalex. Although they kept all the enthusiasm for motorsport, this was a time of transition to market economy and the new and unknown challenges made it necessary to shift focus from manufacture of mostly racing vehicles to more commercial, profit-making activities. MTX pulled it off to become a valuable business partner for such big players as Mladá Boleslav-based Škoda Auto. This didn't spell an end to passion for motorsport or racing-related production activities but, in the brave new post-1989 world, MTX had to adapt its manufacturing portfolio to reflect profound changes in the Czech economy.
The first such step was to convert the MTX Tatra V8, originally a pure-breed circuit racing car, into a Supersport category road vehicle. The big impact the car made at the first Autosalon Praha trade show in 1991 confirmed this was a good decision. The company collected nearly 200 requests and began preparing production. Soon after, MTX management was contacted by a buyer interested in purchasing the whole project, including all manufacturing and intellectual rights. Agreeing to the deal, MTX didn't and couldn't know that a fire at the new owner's premises would sadly destroy all hopes of ever producing what was called the Czech Ferrari.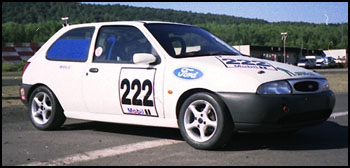 In 1990, the company started production of convertible cars at the Mělník plant. At first a Škoda Rapid-based convertible was made exclusively for a German partner, later MTX developed its own Škoda Favorit modification, a 2-door 2-seater MTX Roadster. The convertible series continued by a Škoda Felicia-based 4-door 4-seater, produced almost until the end of the millenium.
In addition, MTX also produced a leisure car designed by Václav Král, called MTX Beach Buggy. After an initial Škoda-based prototype, the vehicles were fitted with Ford and later also Hyundai engines, as the aim to attract customers outside the Czech Republic required a worldwide servicing network, which back in 1992 Škoda wasn't yet able to supply.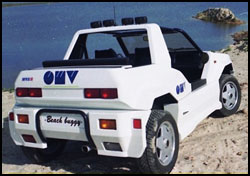 Apart from the convertible and special-purpose modifications, MTX also remained true to its racing history. Building on the many years of experience and using its comprehensive production capabilities, the company focused on single-make cup racing vehicles. After cooperating on Peugeot Cup vehicles production in 1992 and 1993, MTX rebuilt 25 Ford Fiesta cars for the Czech single-make cup.
In 1994, MTX made all the sports parts for the Ford Escort RS 2000 racers, completing the vehicles at the Ford production facility in Köln, Germany. The peak in manufacture of circuit racing cup specials came in 1997 with the production of 36 circuit specials based on the Ford Fiesta Zetec 1.4, followed by 25 pieces of Ford Puma-based vehicles. In the latest cup special series so far, MTX has cooperated with Bervid Motorsport to modify 30 identical BMW 130i vehicles. On top of the modifications, MTX has also done all the servicing and rented the vehicles to drivers competing in the BMW Challenge racing series.
In addition, starting from 1990 MTX developed and produced a number of goods- and utility conversions, initially for Škoda vehicles, later for all the car makes available in the Czech market. An interesting chapter in this part of the company history concerned the modification of Škoda Forman into a flatbed goods vehicle, made on demand for the Škoda importer in Syria, with the Škoda carmaker acting as intermediary. After six weeks of development, series-production began and soon the volume of 450 rebuilt vehicles per month was reached. A change in import legislation on the side of the customer made an end to the production after half a year, yet even in such a short period the total of nearly 1,400 flatbed modifications were made.
Responding quickly to legislation which gave a tax advantage to goods vehicles, MTX was the first to tap the rapidly growing segment of rebuilding passenger cars into goods vehicles. With a strong production base and an experienced staff, MTX became the biggest supplier of these rebuilds and, at the peak, converted Škoda cars as well as those of 13 exclusive importers' cars in volumes totaling over 30,000 units per year.
Currently, MTX continues to develop and produce special cars, supplying important government institutions such as the Czech Police and the Czech Army, as well as making smaller series of customized rebuilds for private companies, and even individual vehicles for end-users.
MTX owners' (who still manage the company themselves) have always kept a strong policy of responsibility. A proof may be seen in the fact that the company still provides technical assistance and supplies unique spare parts for virtually all its products, from the first series-produced Škoda MTX 1–01 formula car through all the convertibles to servicing and repairs of all the recent modifications and rebuilds.